To have Tekkit or FTB installed on your server, you need to have the Wood plan with 1GB of Ram or higher for it to run.
Install FTB Ultimate 1.1.2 Example:
Login to Multicraft,

Select Your server and then select the mod pack you want installed using the Server Type drop down field in multicraft,
Enter a New World Name in the world field. ie newFTBworld
This will generate a new world to get all the modpacks world generation features.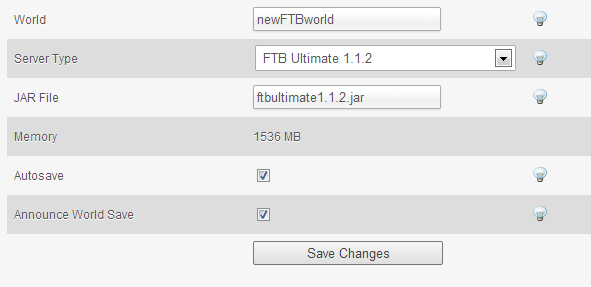 Hit save changes, and then hit the Restart Button.
This will automatically install the modpack on your server for you. Some modpacks can take a few minutes to install.
Check the server console for any errors, and if the server status light changes to green, your server should have installed successfully.
If you already have another modpack installed you need to remove all the config and mod folders on your server before you install the new modpack.
First turn off the server in multicraft, then log into the FTP files menu in multicraft and select all the mods, coremods, plugins, buildcraft folders and hit the delete button.
Then go back to your server in multicraft select the Tekkit or FTB server you want in the Server Type field in multicraft, hit save changes and start the server.