Once your order has been made and payment is received we will setup your order instantly and the details will be visible in your client area and they will be emailed to you.


We will email you the Multicraft login details and your Server IP address to connect to your server, if you dont receive the email in your inbox, check your spam folder. 


To View the Server IP address and Multicraft Login Details in the client area:


Login to the client area
 : 
https://clients.minecraftserver.com.au


Click on the Services drop down menu then click on My Services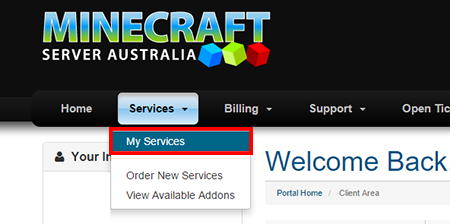 Then Click On Your Server Plan

Then you will see the IP and login details at the bottom of the page.


You can also view the Welcome email in your email history in the client area.